The Most Powerful Tribute: Honoring and Supporting Veterans of the United States Military and Their Families
Nov 14, 2023
November 11th goes down in history.
On the 11th hour of the 11th day of the 11th month in 1918 there was silence. No shots, no bombs, nothing. The "war to end all wars" was over. November 11th became known as Armistice Day and in November of 1919, Americans, like others around the world, commemorated it.
In 1954, we Americans had a shift. To honor those who served in both World War II and the Korean War, United States law was amended to honor veterans of all wars, not just World War 1.
November 11th was changed from Armistice Day to Veterans Day.
RELATED: For a timeline of the history of Veteran's Day, click here.
Honoring those who served.
It's tradition that on the 11th hour of the 11th day of the 11th month, our United States President lays a wreath at the Tomb of the Unknown Soldier. If you haven't been to Arlington Cemetery and made a stop to immerse yourself if the daily vigil held at the site, I recommend you do so when you get the chance.
There are not too many experiences more moving.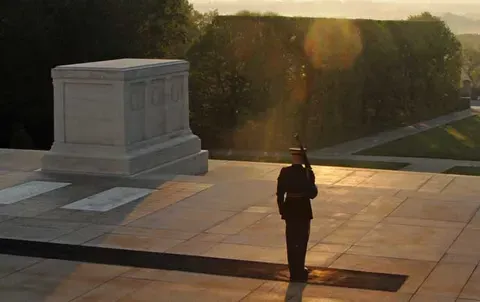 This year, as in the past couple of years being residents of Williamsburg, Virginia, we honored our veterans in the historic area.
The day began with a ceremony in the morning, an afternoon speech by the President's Lady, Martha Washington (Mrs. Katharine Pittman) saluting both veterans and families. It was immediately followed by a parade for our Veterans to march down the Duke of Gloucester Street. And my God, the cheers and support I witnessed: almost indescribable.
More indescribable--the crescendo. Hundreds of veterans being saluted on the Courthouse Green, cannon fire, General Washington (Mr. Ron Carnegie) sharing words from Washington's presidential farewell address and moving into the need for us to do more. All of us.
We must do more.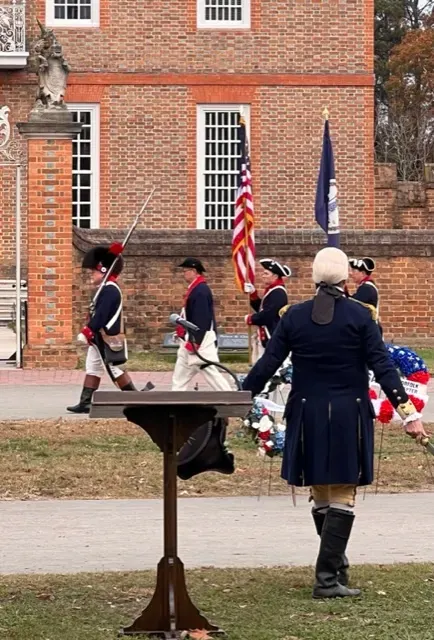 Statistics I hate to know but need to share.
The latest report from the Veteran's Administration, as of this blog post was published in 2022. This is pulled directly from the report:
In 2020, there were 6,146 Veteran suicides. This was on average 16.8 per day. In 2020, there were 343 fewer Veteran suicides than in 2019, and the number of Veteran suicides was lower than each prior year since 2006.
I guess the good news is that the number seems to be trending down.
The bad news, it's still heart-wrenching and unacceptable.
I don't have a magic answer. But I can say this:
Listen.
Be appreciative.
Seek out opportunities to help.
Every day, not just on November 11th.
Examples of places to find opportunity:
The Gary Sinise Foundation: for years, this has been my go-to. They directly support veterans and the homepage includes crisis hotlines.
Lay a wreath: on December 16th you'll find us at the Cedar Grove Cemetery on South Henry Street. While Veteran's Day honors the living, we will showing our respect to all who served as part of Wreaths Across America. Being appreciative.
Volunteer: Whether it's at a location like Colonial Williamsburg's Liberty Lounge, where my veteran hosts others as a volunteer, or any organization that offers a listening ear, physical and financial support, or takes a small step to improve the lives of veterans and families, it matters. Google it, talk to your neighbors, find a fit.
For more information about Wreaths Across America, click here to my earlier post.
Closing words: an excerpt from President Dwight D. Eisenhower's 1954 proclamation.
(read the proclamation in full here)
Now, Therefore, I, Dwight D. Eisenhower, President of the United States of America, do hereby call upon all of our citizens to observe Thursday, November 11, 1954, as Veterans Day. On that day let us solemnly remember the sacrifices of all those who fought so valiantly, on the seas, in the air, and on foreign shores, to preserve our heritage of freedom, and let us reconsecrate ourselves to the task of promoting an enduring peace so that their efforts shall not have been in vain. I also direct the appropriate officials of the Government to arrange for the display of the flag of the United States on all public buildings on Veterans Day.