Being Free At 50: I Moved to Williamsburg and Get to Experience American History Every Day
Jun 09, 2023
History is made up of humans.
And that fascinates me. So do the buildings the humans lived, studied, and worked in.
So do the inventions they created, the trades they mastered, the hobbies they loved, the food they ate, the art they treasured, the education they received, the music they listened to, the flowers and plants in the gardens, the tools, the instruments, the THINGS.
The longer I live in Williamsburg and thus the Historic Triangle, a result of my Free At 50 life, the more fascinated I become. And who knew I'd be SO into archaeology and architecture!
Because this y'all- THIS is American history.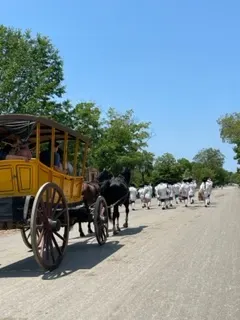 Disclaimer: As a blogger, I use affiliate links sometimes! I may receive commission from purchases I share, but it does not change your price but sometimes you might get a discount.
American history is not JUST the Declaration of Independence or the story of Captain John Smith or the Battle of Yorktown.
It's also the fact that Jefferson stormed out of the room when the Declaration was being discussed and went shopping. Why? Because South Carolina and Georgia wouldn't sign it with his anti-slavery clause included. It was (clearly) removed.
History is the actuality of Captain John Smith drawing incredible maps and capturing his experiences in writing (thank goodness so many in history did!). Now the archaeologists at Jamestown Island are excavating outside the fort based on his writings about the "dwellings."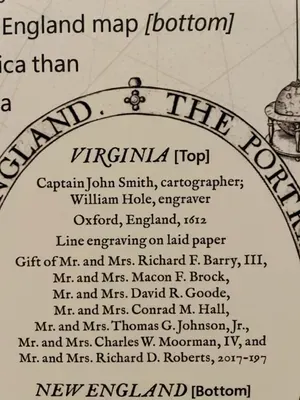 Author's recommendation: Get Love and Hate in Jamestown here for a deeper dive into Captain John Smith.
History is also how Martha Washington spent winters during the Revolution at the encampments to be with her husband. And to do her part… which included politics of the "dinner table" during the war.
It's how she led the charge on fundraising for the soldiers and war effort based on a letter to the citizenry by her friend Mrs. Reed.
It's also about how the Marquis de Lafayette disobeyed his King to come here at age 19. Yes, he was pretty wealthy… so he bought a ship: La Victoire and, traveling to America disguised as a merchant, was seasick the whole time. Then he was almost killed by the first Americans he encountered after landing in South Carolina, mistaken for an Englishman!
Lafayette's commitment kickstarted the support of the French in our Revolution (the King eventually came on board-- thank goodness!).
History is about the people and their complexities of emotion, evolution, and all that make them human.
It's about people like Dr. John Galt, who took care of the sick at home while his brother Patrick traveled with the military and died in Morristown New Jersey. It's his letters being available for interpreter Austin to showcase his emotions about Patrick's fate.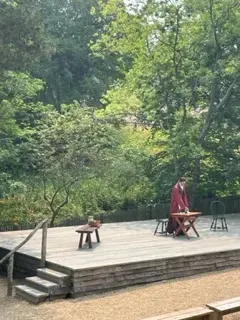 History is about George, who worked under multiple Governors at the home on the Palace Green. He was enslaved and up for sale after Lord Dunmore fled in the middle of the night, as the writing was on the wall for the Revolution. What was he thinking as he found out he was leaving the one home he knew and the household he was such an integral part of?
It's about George Wythe, Jefferson's mentor and teacher who became the first law professor in the United States at the College of William and Mary, the first law school.
Wythe was not only a signer of the Declaration of Independence, but he was also way into science, his home was used as an HQ by Washington before Yorktown, and he freed his slaves as soon as was allowed in the 1780's. Complexity.
It's about Kurt Smith (who portrays Thomas Jefferson) reading over 20,000 letters Jefferson wrote and a total of almost 50,000 if you include those written to and about him – all primary sources! – to accurately understand and share the REAL Jefferson with us all.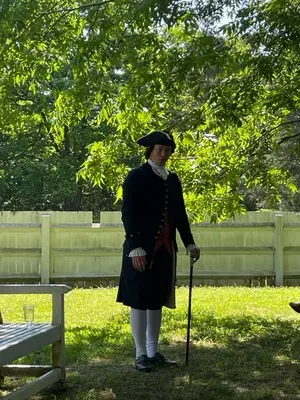 In fact, this is what all our Nation Builders here do.
It's about the story of Jane Vobe, tavern owner, and Reverend Gowan Pamphlet- who she freed and allowed to be ordained. He became the first black man ordained in North America and by the time the First Baptist Church was built in Williamsburg, he had 500 people in his "flock."
James (who portrays Pamphlet) will tell you history is about individuals - HUMANS like each of us - and their personal conflicts, struggles, and beliefs- like that of Jane who was his owner and whose "name he will always speak" because of his love and gratitude for her.
Author's note: When in character, the actor-interpreters stay in character while having conversations with each other and with the public. I will refer to them in character when appropriate.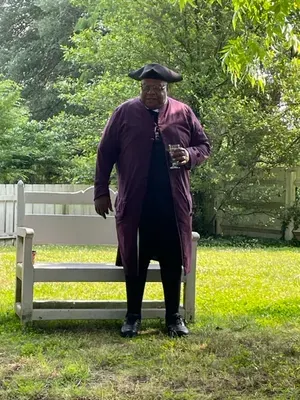 So yes, humans are complex, and we evolve over time. We may be remembered or known for something specific, but that is not the only thing we've accomplished or what we've done in our daily lives, is it?
Real American history is about things, places, and programs as much as it's about people.
History is also about the use of an original engraving plate depicting the Governor's Palace and the Capitol in Williamsburg being found in England and used to re-create them both! It's about John D. Rockefeller investing millions to reconstruct and restore Williamsburg in the 1930s, with those two buildings being some of the first.
It's about the existence of the Rockefeller and Swem libraries, filled with history and specifically with special collections so we can all have access to primary sources. These are libraries any of us can visit.
I honestly lose myself in the Rockefeller Library and my Facebook friends are well-aware! (it doesn't hurt there's a pasture in front of it where Colonial Williamsburg rare breed horses can sometimes be found).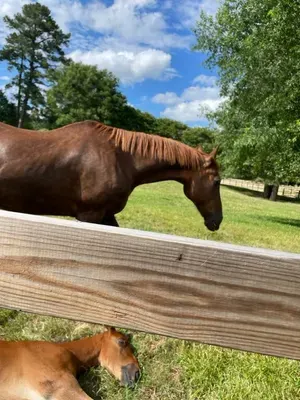 Legacy and her foal Brafferton.
History is about millions of artifacts held by Williamsburg, Jamestown, and Yorktown, as well as across Virginia and every other state. Have you visited your local historical museum? As small as it might be, you will be amazed at SOMETHING, at some story, at some piece of American history it holds.
You can also visit historical homes or buildings, military memorials and museums, or even your state or local library. When we lived in Lansing, we loved to visit the Michigan History Museum as well as the R.E. Olds Museum.
Colonial Williamsburg is my home and I'm astounded by the 17th and 18th centuries, but there is more.
History is about SO many people, and so many things… that's what THIS BLOG will be about, with some of the behind-the-scenes tossed in- I may write about the rare breeds program, the Queen's visit, or the Liberty Lounge created for military members and their families.
In fact, I wrote a guest post on the Roam and Capture travel blog about visiting Williamsburg!
Truly, history is not black and white. It is blue, orange, purple and filled with a lot of grays.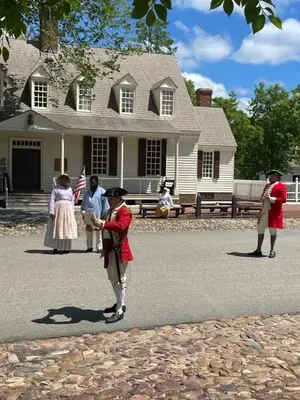 For me, becoming a blogger and being location independent allowed me to move to this place, to dive into my passion for history, and to live my dream.
Share your stories and findings with me!
Uncover the stories of the past and bring the people to life. And I promise, this blog doesn't have to be limited to the Historic Triangle.
Do you love this blog? Use my online tip jar and buy me a coffee:

Cheers!
There is a huge practical disclaimer to the content on this blog, which is my way of sharing my excitement and basically journaling online.
1) I am not a historian nor an expert. I will let you know I'm relaying the information as I understand and interpret it. The employees of Colonial Williamsburg base their presentations, work, and responses on historical documents and mainly primary sources.
2) I will update for accuracy as history is constant learning. If you have a question about accuracy, please ask me! I will get the answer from the best source I can find.
3) Photo credit to me, Daphne Reznik, for all photos in this post! All photos are personal photos taken in public access locations or with specific permission.