Musings on Liberty: A Quick Post Celebrating Independence Day
Jul 04, 2023
Celebrating Independence Day in Colonial Williamsburg.
The American Revolution and what followed is celebrated 7 days a week, 365.24 days a year in Colonial Williamsburg (CW). I'm accounting for leap year because I want to be accurate!
However, the 4th of July brings special presentations and we started our day with a wander around Yorktown and then listening to Thomas Jefferson read the Declaration of Independence at our Capitol Circle.
But I couldn't go without dropping some thoughts on American Independence Day.
SOME thoughts. Because truly, I could write pages and pages! (and yes, multitudes of books HAVE been written, so that's not the point of this post. I'm not covering anything or everything in detail.)
Instead, I'm going for a post that gives you some food for thought. Dig deeper friends, always dig deeper.
RELATED: See the Declaration in its entirety here.
Disclaimer: As a blogger, I use affiliate links sometimes! I may receive commission from purchases I share; it does not change your price but sometimes you might get a discount.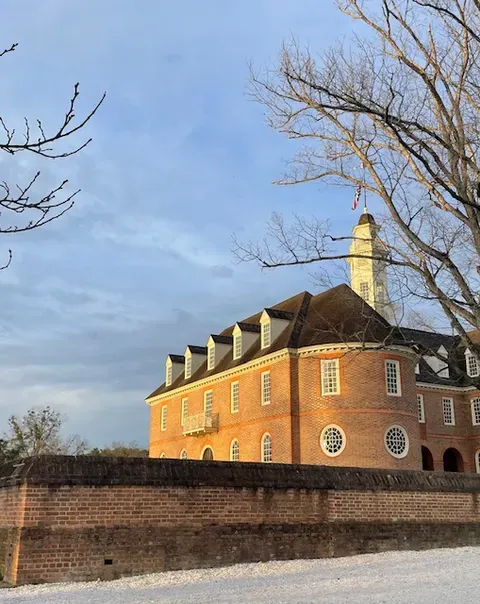 Taxation without representation.
How quickly did it escalate from dumping tea in Boston and the closing of the harbor by King George III to George Washington's friend Lord Dunmore fleeing with his family out the back door of the Governor's Palace?
Truly, it started years before that tea was dumped.
In fact, it was a couple of decades. But the tipping point seems to be the Stamp Act.
Colonists paid taxes, they even passed tax bills as part of government functioning to support life here. However, they always had a say in it. The Stamp Act was a mandate on the Colonies by Parliament... and that stung.
It began a journey into building the foundation for independence. From tinsmiths making portable "kitchen" items to tailors making tents, life changed in Williamsburg and throughout the Colonies.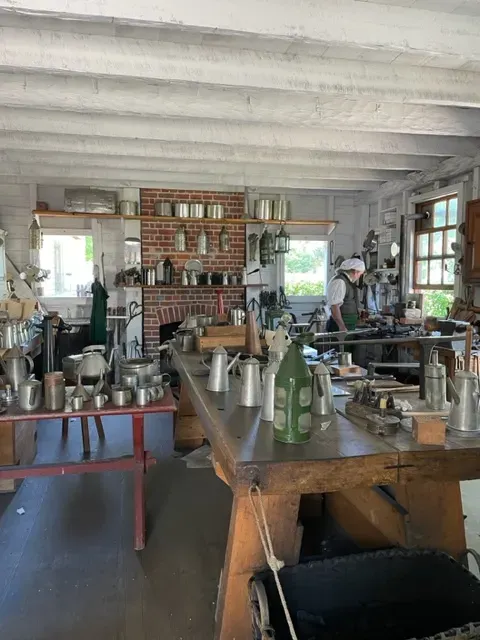 CW tin shop.
Decisions that shaped the future.
The decision of Men to choose a side, either sticking with the King or becoming a Patriot, was easier for some than others. Every one decision had an impact on families, individual businesses, and our entire global economy.
I think about the friendships, relationships, and conversations had in Williamsburg and throughout the Colonies at that time.
Peyton Randolph, president of both the 1st and 2nd Continental Congresses was separated from his brother, who chose to remain loyal to the King.
William and Sally Fairfax, close friends and neighbors of George Washington, stayed in England after traveling there before the war. Washington's friendship with Lord Dunmore clearly changed as independence neared.
Benjamin Franklin, a founding father, had a son named William who was active in supporting England during the Revolution.
The Marquis de Lafayette and many other Frenchman traveled here, leaving families behind, to fight for our Independence.
The Indian nations had an impact on our freedom, our daily life, and the future of this country and we honor them in CW.
This blog is titled "What American History Is About" because of one simple reason: it's about so much more than the main figures and events we learned about in history class. I want to share that.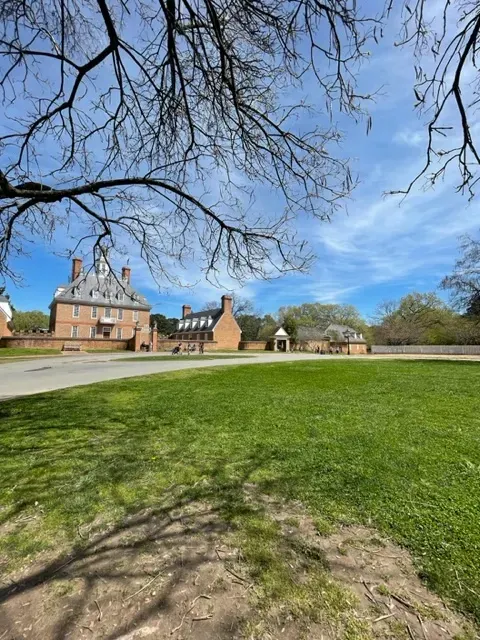 Give me liberty or give me death.
The phrase "give me liberty or give me death" was part of an historic speech by Patrick Henry... but around here you'll hear that he made many speeches and there are so many words of his we should consider in the road to the Revolution.
And what is liberty really?
I'm sure there are many definitions, many interpretations, and many examples.
However, it's clear that having control in making the laws that govern us is a blessing and we owe it to those who created the foundations of these United States of America.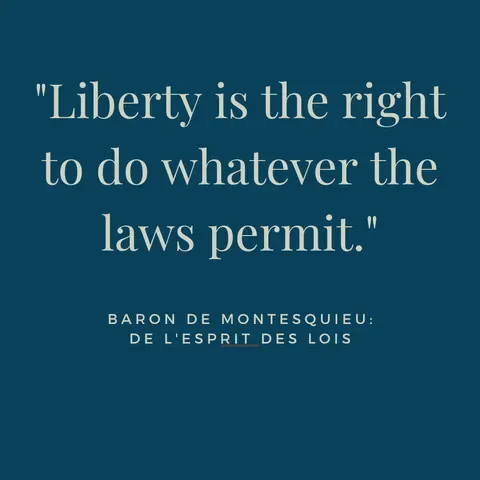 The elephant in the room when discussing freedom.
It seems paradoxical to know that slavery existed during the Revolutionary era, while liberty and freedom was sought after by the Patriots.
Don't think this didn't cross the minds of our founding fathers, including men like George Wythe, who freed his enslaved as soon as he was legally allowed. (And at least 2 stayed with him as employees after!)
Kurt Smith, who portrays Jefferson in CW and has read thousands of letters to and from Mr. Jefferson, recounts his walking out of the room as South Carolina and Georgia refused to adopt the Declaration of Independence with the anti-slavery clause in it.
And so many more stories. Some will be on this blog as I continue it.
Remember, history is made by humans. And humans are complex.
All of this complexity and the evolution of our thoughts, laws, and our country as a whole, led us here. The bad, the good, and everything in between.
RELATED: Bryan Austin's podcast: Let's Be Frank sharing Benjamin Franklin's perspective, using primary sources. Listen here.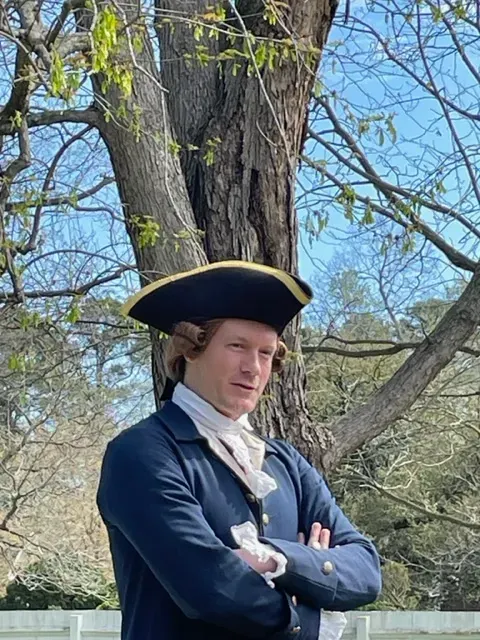 Kurt Smith as CW's Thomas Jefferson.
Closing thoughts.
As Lafayette, CW's Marc Schneider recounts the words Washington said to Lafayette about the new United States of America. I'm paraphrasing of course: winning the war was the easy part, the success of America's future, including all of us getting along, is the hard part.
The British surrender at Yorktown may have been the true beginning.
As we celebrate our independence this day and every day, I urge you to dig deeper. And to always be working on the "hard part" - the success of our future in the United States of America.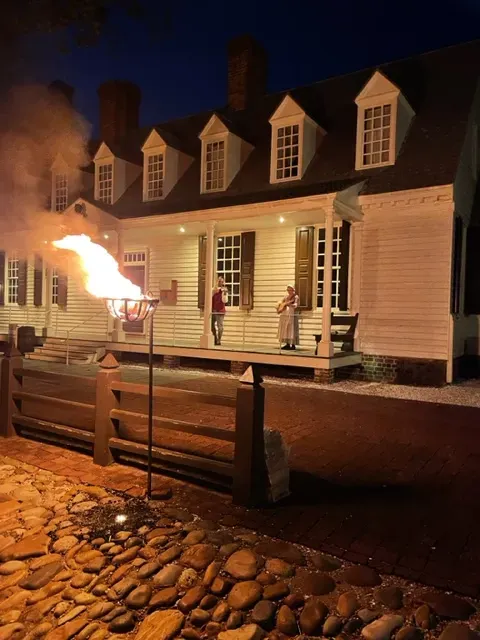 Are you enjoying the blog? Use my online tip jar and buy me a coffee:

There is a huge practical disclaimer to the content on this blog, which is my way of sharing my excitement and basically journaling online.
1) I am not a historian nor an expert. I will let you know I'm relaying the information as I understand and interpret it. The employees of Colonial Williamsburg base their presentations, work, and responses on historical documents and mainly primary sources.
2) I will update for accuracy as history is constant learning. If you have a question about accuracy, please ask me! I will get the answer from the best source I can find.
3) Photo credit to me, Daphne Reznik, for all photos in this post, unless otherwise credited! All photos are personal photos taken in public access locations or with specific permission.