The House Richard Decatur Lee Built
Aug 05, 2023
I visited Lee Hall Mansion in Newport News Virginia the other day and couldn't wait to blog about it!
I'm starting off by saying this- no indoor photos are allowed, so what you'll see below are all outdoor pics. Sorry- you'll just have to visit!
Living in Williamsburg has been a blessing- I visit the historic area most days. If not, I'm wandering over to Yorktown, the Jamestown Settlement or Historic Jamestown. I truly believe you should visit historic places you love MULTIPLE TIMES. I even wrote about why!
What I don't do enough: wander outside the historic triangle. So I am on a mission to make it happen and Lee Hall Mansion was on my shortlist- it's 20 minutes away for goodness' sake!
Disclaimer: As a blogger, I use affiliate links sometimes! I may receive commission from purchases I share; it does not change your price but sometimes you might get a discount.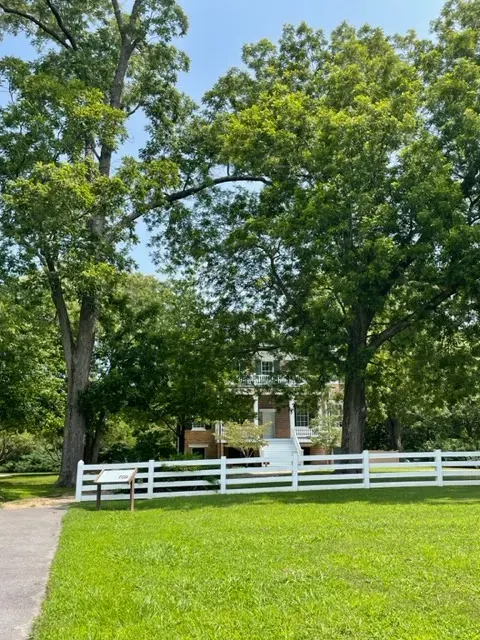 Rear view of house from parking lot.
The house is a unique work of art, yet reminiscent of 19th century architecture.
It's 19th century architecture encompassing many styles all-in-one.
When Richard Decatur Lee (no known relation but often confused to be part of the Robert E. Lee family) began building this 3-floor 6000+ square foot home in 1850, he had no idea, he'd barely live in it.
What he did know, clearly by the looks and architecture of the place, is that he wanted it to be grand. As grand as any planter in the peninsula could have anyway!
First, it was huge in square footage alone. But what else did it boast that makes it a building worth seeing in person?
12 fireplaces.
Closets in the bedrooms.
Italianate porticos on a brick Georgian floor-planned house.
Oh and don't forget the Greek and Gothic inspired columns and trim.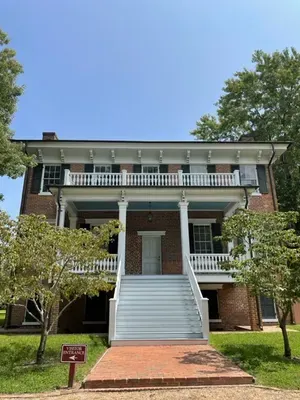 RELATED: Dive deeper into American architecture by purchasing this book!
Built on high ground off a major road.
It's quite possible General John B. Magruder, known as "Prince John" for a reason, chose to make Lee Hall his Civil War headquarters (HQ) for it's location on high ground, with a solid view of the countryside.
Mr. Lee, having built such a stately home, likely positioned it intentionally facing what was then the Great Warwick Road. It couldn't be missed... and it's also possible that Prince John was so impressed having visited it prior to the war, that he was compelled to set up HQ there because of the stateliness.
The kitchen.
During the late 17th and early 18th centuries, it was common (as posted on the marker outside the brick kitchen at Lee Hall) for planters in the Chesapeake region to build outdoor kitchens.
I've heard time and again why this was a thing. Clearly, it removes the noise and heat from the main home as well as prevents the likeliness of a kitchen fire burning down the house. Depending on who is giving the tour or explaining the reasons, you'll see different priorities rising to the top as the main reason.
Of course there's a warming kitchen in the basement of Lee Hall for quick delivery of food into the dining room upstairs. My tour guide Juanita let me know her thoughts: that the family likely ate most meals in the warming kitchen, reserving the dining room for special occasions and entertaining.
The kitchen on this property is a beautiful representation of the past. I had to take a picture!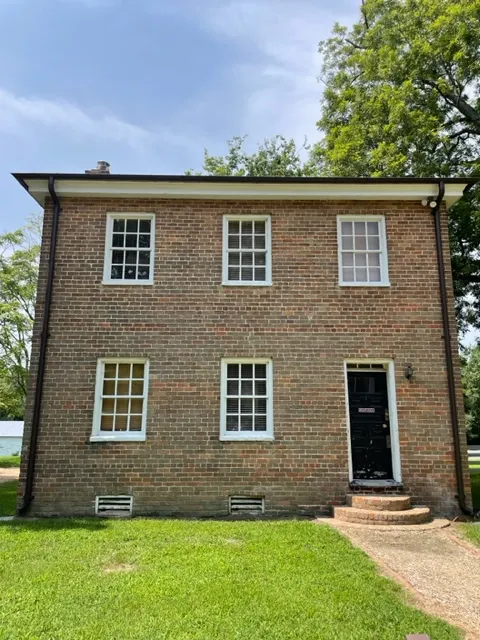 The brick kitchen at Lee Hall.
The people inside the house.
Richard Lee and his family.
His wife Martha, her sons from a previous marriage and the 3 children they had together briefly lived in Lee Hall Mansion.
Why briefly?
Mandatory evacuation for the region for women and children went into effect not long after the house was completed in 1859. Mr. Lee inherited the property at age 23 and was on a mission to make the most of it.
By today's standards, Mr. Lee would likely be known as a "modern farmer" and innovator in agriculture. He grew the property from his successful techniques like fertilization. When he inherited the land originally, it was depleted from the tobacco crops of the past and he had to create a whole new way of farming it.
Here is what I learned on the tour:
His intent to build the home we visit today into an amazing family home was crushed by the Civil War.
After he chose to flee with his wife and children, the house was used as a Confederate HQ. Yes, he was paid for it... but it was in Confederate money... worth nothing after the war.
To make it worse for the Lees, the government confiscated his property. He was destitute and wrote letters and ultimately got the home back. The property (farming) was destroyed and he went into debt, unable to keep hold of the property.
Confederate Generals of the Civil War.
I mentioned General Magruder used the house as an HQ, but so did General Joseph E. Johnston (whose mother was Patrick Henry's niece by the way!).
It was common for Civil War generals to use private homes and the location of this one on the peninsula, not far from the Union stronghold at Ft. Monroe and within reach of battles like Big Bethel, won by Magruder, made it a logical choice.
An attorney who created a hunting lodge.
Ok- I'm admittedly sketchy on this one- I wish I'd taken better notes! I can tell you that approximately 40 years after the war, a successful attorney who represented what is now the Newport News Shipyard in a suit against the government bought the property. And developed it into a hunting lodge. (More research to be done and I'll be updating this post of course!)
That said, the property stayed private until the City of Newport News purchased it later in the 20th century and created the historical site we visit today!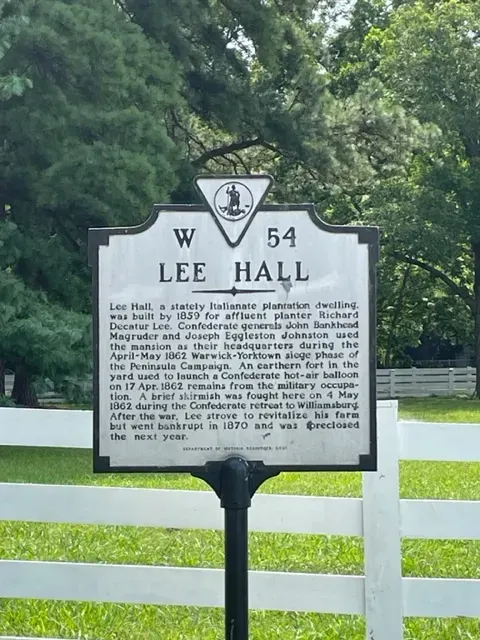 What's inside today.
A wall mural based on a sketch.
Newport News curators found out about a sketch by John Batchelder of "Robert E. Lee's house" - but it wasn't! It was Richard Decatur Lee's family property. It's an amazing depiction of the property and you can see it come alive, large and in color, on the wall near the ticket counter.
A museum.
This tiny little museum inside the house is a hidden gem of Civil War history. From information about Fort Monroe and Big Bethel to actual artifacts from battle, I was loving it.
An impressive pianoforte.
While most of the pieces are period pieces, this one actually has a tie to the Lee family! It was owned by Martha Lee's first husband's brother. And it is huge. And beautiful. And I wish I'd have been able to take a photo... if you love music, instruments, woodworking, engineering, any of it... your admission fee is worth this piece alone.
Wilton carpet.
There are beautiful pocket doors, original hardwood flooring and period wallpaper... but the Wilton carpet, unlikely there in the home but traditional to the era, is a piece of 19th century history that breathes life (and color!) into the house.
Hangers in the closet.
First off, I mentioned this above- there are closets in the bedrooms. And having owned a 1920's bungalow, I can tell you that the further back you go, the less closet space and actual closets you see in houses. These were larger than my bungalow's closets!
And one cool little bit for us history nerds: not only were there hangers, but there was information and diagrams about the evolution of hangers and closets. Again, I wish I could've taken a photo, so you'll just have to trust me on this!
More that you might notice or ask about.
Simply said, everyone will notice and love something different when visiting Lee Hall or any other property. I'm sure I'll go back and if I do, you'll see more added to this post!
Have you visited any historic homes you want to share about? Drop it in the comments!
Are you enjoying my "just for fun" history blog? Tip me online by clicking here!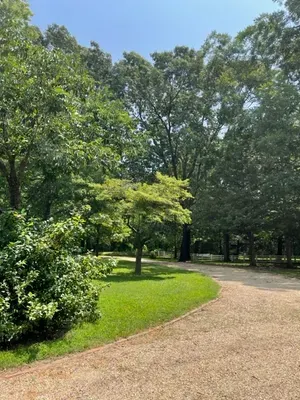 There is a huge practical disclaimer to the content on this blog, which is my way of sharing my excitement and basically journaling online.
1) I am not a historian nor an expert. I will let you know I'm relaying the information as I understand and interpret it. The employees of Colonial Williamsburg base their presentations, work, and responses on historical documents and mainly primary sources.
2) I will update for accuracy as history is constant learning. If you have a question about accuracy, please ask me! I will get the answer from the best source I can find.
3) Photo credit to me, Daphne Reznik, for all photos in this post, unless otherwise credited! All photos are personal photos taken in public access locations or with specific permission.