4 Things I Learned from the Colonial Williamsburg Gunsmiths- A True Gem of a Trade
Sep 15, 2023
Let's start with who the Colonial Williamsburg gunsmiths are.
Yesterday, we dropped in to the Gunsmith's shop of Colonial Williamsburg (CW)- we do it pretty often. This time, I decided to put a little list of historical bits I've picked up from these true experts, historians, and of course- unique tradesmen! In fact, that's first on the list of factoids: these gentlemen are the only ones in the world that currently build historical rifles and guns: LOCK, STOCK, AND BARREL.
Yes, start to finish. Including smithing every piece of metal and they've created the tools used to make the guns. Yes, you can order one but know this-- they have a waitlist of about a decade and start around $20,000.
Here is a fantastic video showing off their skills!
Necessary disclaimer: As a blogger, I use affiliate links sometimes! I may receive commission from purchases I share; it does not change your price but sometimes you might get a discount.
Number 1: what makes a gun a rifle
Ok, some of you may find this amateur, but I'm not familiar with this stuff. I learned about the grooves inside a rifle.
And here is the cool part of how I learned it here in CW: the gunsmith showed us the tool they use to make the rifling inside the barrel. It cuts 7 grooves at a time and is a piece of equipment made years ago... here in CW! Check it out in the photo below!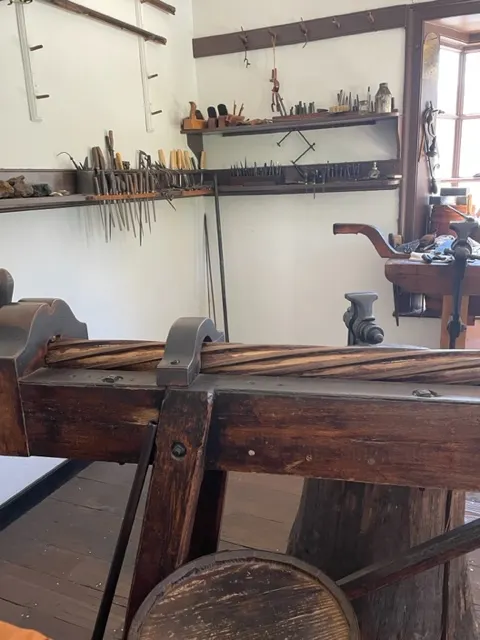 Number 2: Dough should be spelled doe when you talk about money.
In early America, doe-skins and buck-skins were sold and measured in value based on Spanish silver dollars.
Small groups, or sometimes even individuals alone, would travel "west" for months at a time, using pack-horses that could carry up to 400 pounds of skin. They'd hunt while the weather allowed it and earn a pretty solid income by selling the skins, which they've prepared, to be shipped to England. (I'll have to get those prices clarified).
Thus "doe" and "buck" references in American slang.
The origins of American slang and common terms we use today are found all over Williamsburg - I am starting a list for a whole post to be dedicated to it!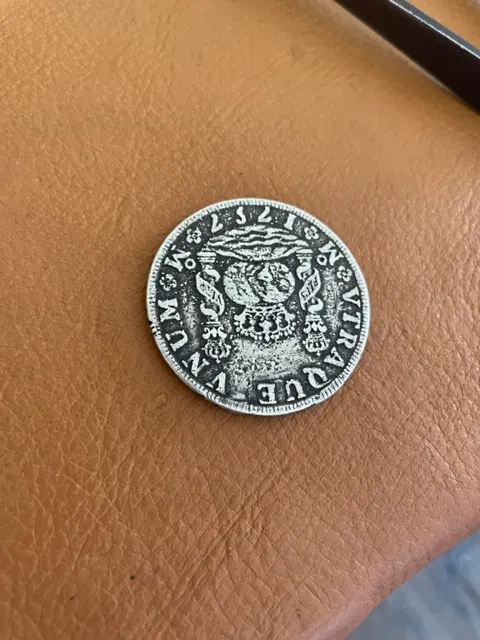 Number 3: Daniel Boone shot a giant without a ribcage.
According to our experts, who clearly have an interest in Daniel Boone, Boone's favorite book was Gulliver's Travels. It's likely why he references the "giant" he shot as a "yahoo" but we may interpret his "giant" as the folkloric Bigfoot?
A secondhand account based on an interview with Daniel Boone not long before his death was shared with us by one of our gunsmiths. Here is an excellent account of the Boone story about the attack on his son, followed by Boone saving his life by shooting the said yahoo. Once he finally eliminated the threat and dug into it... for reals... he found that "giant" had no ribcage!
Folklore, tall tale... or reality?
RELATED: Read more about American folklore in this encyclopedia of it!
Number 4: Gunsmiths used scrap brass to stay legit and legal.
Being part of a colony and not the actual mother country, early Americans couldn't get their hands on brass as a raw material around here and out "west" (see author's note below!). Overall and in summary, colonies were suppliers of raw materials and England was basically the hub for redistribution, typically in the form of finished and manufactured products.
An example of how tensions created the momentum and motivation for early Americans taking the leap into "production" is explained well in this article on CW's website.
So what was a gunsmith to do to get brass? Use scrap! Brass was coming in by the shipload (literally) in the form of everything from candlesticks to shoe buckles. Gunsmiths would pay people for these items and melt the brass down.
This process of using scrap provided by the consumers themselves was also typical in shops like the silversmiths' for example. Repurposing old and less fashionable items into new designs or for new functions was common at the time.
Side note: I reference the "west" as the Colonial era frontier, which was truly not the western United States we know today, but we currently know as western Virginia and the states of Ohio, Kentucky and West Virginia, even into Indiana and Michigan. At the time of our revolution, all considered part of the Virginia colony.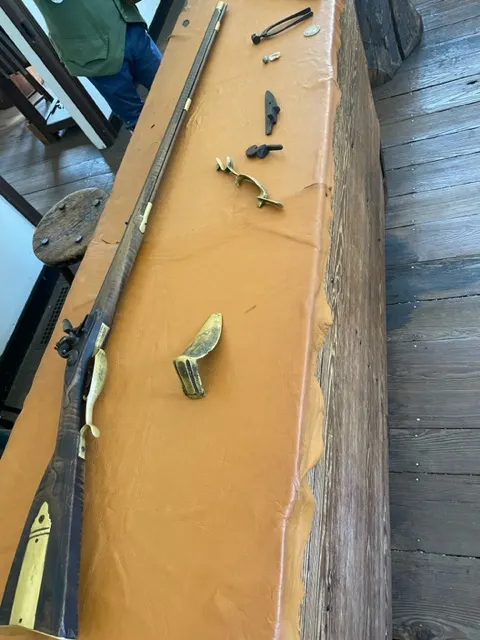 Is this all I've learned from our gunsmiths?
Absolutely not. Every time I pop into any of the trade shops, from the bookbindery to the blacksmith, I learn something. Often many things.
Stay tuned for more history from my visits to the trade shops.
Because the humans of history (complex as they are) and
... all play a role in our history and as far as the 18th century goes, in American independence.
So I will continue to write about any and all of these things! And close in my favorite way... see my closing words below!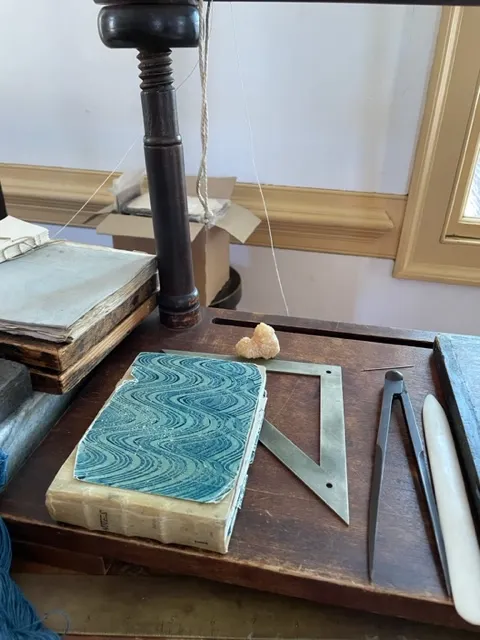 As usual, words from the past to close the post.
This time, and again from my favorite website to find words from the past, an excerpt from the following. Read the minutes in full with citations here.
Minutes of the Conference between a Committee of Congress, Washington, and Representatives of the New England Colonies, 18[–24] October 1775
Minutes of the Conference between a Committee of Congress, Washington, and Representatives of the New England Colonies....
3. What is the best Method of providing Arms for the Troops to be engaged in the new Army?
Agreed that it be recommended to the several Assemblies or Conventions of the respective Colonies to set and keep their several Gunsmiths at Work to manufacture good Firelocks with Bayonets, each Firelock to be made with a good Bridle Lock, ¾ of an Inch in the Bore and of good Substance at the Breech, the Barrel to be 3 feet 8 Inches in Length and a Bayonet of 18 Inches in the Blade, with a Steel Ramrod the upper Loop to be trumpet mouth'd. The Price to be fixed by the Assembly or Convention or Committee of Safety of each Colony. And to import all that can be procured.
Also that the good Arms of all such Soldiers as leave the Service be retained on a Valuation made of them. Friday October 20. 1775.
The Committee met present as before.
Cheers to history and this fascinating trade, kept alive and educating the public here, in the largest living history museum in the world!
Enjoying this blog? I have an online tip jar! Click here to tip me.

There is a huge practical disclaimer to the content on this blog, which is my way of sharing my excitement and basically journaling online.
1) I am not a historian nor an expert. I will let you know I'm relaying the information as I understand and interpret it. The employees of Colonial Williamsburg base their presentations, work, and responses on historical documents and mainly primary sources.
2) I will update for accuracy as history is constant learning. If you have a question about accuracy, please ask me! I will get the answer from the best source I can find.
3) Photo credit to me, Daphne Reznik, for all photos in this post, unless otherwise credited! All photos are personal photos taken in public access locations or with specific permission.